Heat Rises
As I was telling my students, Tom Edisen and Nicola Tesla1 there is a common misconception that heat rises.
NO IT DOES NOT! Heat radiates equally in all directions.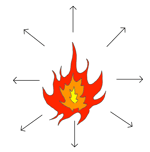 HOWEVER, hot air rises relative to cooler air (this is why hot air balloons work and why most politicians, managers, and some (not me, of course) professors are more likely found closer to the ceiling than the floor.
For commercial and industrial heating, knowing that heat and hot air are not the same thing is very important when designing furnaces, ovens, boilers and other process heating equipment.
Convective heating is the primary way for heat to transfer to your work product (be it ceramic, metal, or even air) for direct-fired burners operating at relatively low temperatures, up to about 1200° F (650° C). Convective heating can be greatly enhanced using pulse-fire, mixing fans, and/or a high excess-air /fuel ratio.
Radiant heating is an efficient way for heat to transfer if a radiant-style burner is used (for lower temperature systems) or above 1200° F (650° C) when the furnace lining begins to glow (ie radiate).
1 I told Nicola once. Thomas I had to tell 99 times…